Home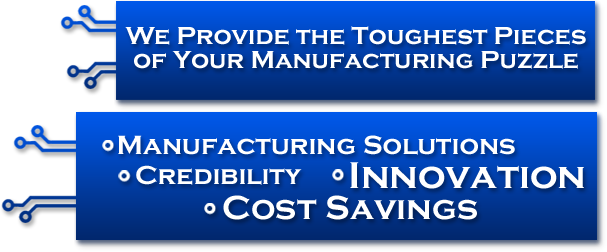 Whether it's a piece of the product or the whole product, Richmar Electronics provides the solution to your manufacturing needs. Our engineering resources will move your idea from concept to production, on-time and on-target.
We provide custom engineered manufacturing solutions and assemblies. Our services include turn-key manufacturing, electronic and mechanical fabrication and assembly, printed circuit board construction, aluminum and sheet metal work, power supplies, cable assemblies, LED solutions, custom electronic switching interfaces, die casting and plastic injection molding.Give us your toughest problem, and we will solve it: To specifications. At the lowest cost possible.
We Help Your Business Succeed
We don't just "sell" a product. We become an extension of your manufacturing capabilities.  We work hand-in-hand with our suppliers' engineering staffs and connect them with your team. We rally their resources to get you what you need.
Quality Standards and International Compliance
We recognize that quality is a necessity. Compliance with standards such as RoHS and WEEE are a priority for Richmar. We represent world class manufacturers with the certifications you demand: ISO 9000:2000, ISO 14000, QS-9000, FAA, FDA and more. We assure you that every component, device or technology we supply will include the compliance data and certifications you need to succeed.
Completing the Loop
Our track record shows that when we team up with a supplier or customer, it's likely we'll be working together for many years. That's because we do our homework. We call it "Completing the Loop."
We follow through from concept to estimating, product development, cost-reduction and life-testing. We understand the full cycle necessary for your satisfaction, and we're committed to fulfilling it every step of the way.
40 Years of Satisfied Customers
Founded in 1968, Richmar Electronics is in its second generation of family ownership. Today Richmar represents world class manufacturers domestically and globally.
"Many of our first customers and suppliers are still with us," says Richmar President Marty Smego. "This is the highest testament to their satisfaction. We deliver quality products on time while constantly suggesting cost reductions. We are survivors because we serve our customers."
For our loyal customers—and our latest ones—we stand firm in our pledge to offer superior technical knowledge, customer service and a hands-on approach to solving your toughest manufacturing problems.
Major Markets Served
| | |
| --- | --- |
| Industrial | Consumer |
| Appliance | LED Lighting |
| Medical Instrumentation | Automotive/Transportation |
| Military/Aerospace | Telecom/Datacom |
| Security | PC and PC Peripheral Industries |